Since plastics materials have been introduced to the markets countless applications have been invented and products made of plastic can be found in almost every industry and all parts of our everyday lives. Due to the continues research and product development products made of plastics serve an almost endless variety of needs – from health care applications to food preservation, from lightweight yet robust construction materials to building insulation.
Today the path for plastics clearly leads not just to contributing to sustainability by reducing, e.g. food waste and transport costs due to smart and lightweight packaging solutions, but to become even more sustainable themselves, e.g. by the usage of biobased raw materials.
The path toward a sustainable engineering future can begin today, by using materials originating from plastic waste or bio-based materials; choosing the right technology, be it mechanical or chemical recycling, or closing the nutrient loop with biopolymers. These innovations help you take one step toward a lower-carbon future.
With BTC Europe and BASF as your global partner in the plastics value chain, you can choose solutions that power the circular economy and make net zero possible. Together, we can design products that use resources in the best possible way and create solutions that open infinite possibilities for a more sustainable future.
Our portfolio for the plastics industry serves a wide range of applications covering and enhancing different aspects of plastic based products like sustainability, durability, thermal stability, colouration and other special functions.

Spotlight: ChemCyclingTM, turning trash into treasure
No recycling solutions? As part of BASF's ChemCycling™ project, our technology partners turn plastic waste into pyrolysis oil that we use to replace fossil resources throughout the value chain—turning trash into treasured materials.
You can also allocate recycled-based feedstock for your products with a verified mass balance approach, while ensuring the same high quality you've always delivered.
Life Cycle Assessment for ChemCycling
Evaluate the environmental impact of chemically recycled products made by BASF. Specifically, you can compare CO2 emissions between Ultramid® production from end-of-life tire pyrolysis oil and naphtha.

Portfolio
Our Offerings for the Plastics Industry
Durability of Plastics
The continuously rising long-term performance and sustainability standards required of plastic end products present strong challenges for manufacturers. Colour fading, cracking and general deterioration are caused by the damaging effects of heat, oxygen and light. Today, however, state-of-the-art technologies allow the design of products with outstanding durability and performance.

We offer a unique range of solutions that can provide the longterm thermal stability, light stability and extended UV protection needed to help prevent mechanical and optical deterioration of plastic & rubber end products. Our experts will be pleased to offer advice on designing formulations tailored to your requirements.
Processing and thermal Stability of Plastics
During manufacture of plastics articles, the materials undergo various thermoplastic processes, such as masterbatch production, compounding and subsequent conversion by injection moulding, thermoforming and extrusion. During all of these steps, most plastics, including polyolefins, styrenics, elastomers, rubbers and engineering resins, are susceptible to thermal degradation, which affects the performance, functionality and appearance of end products.

BTC Europe offers a wide range of processing additives, stabilizers and co-stabilizers to help protect plastics from thermally induced degradation and early failure.
Our experts will be pleased to assist you in designing successful formulations and addressing your technical and commercial needs.

Colouration of Plastics
Special, high-quality colourants are essential for good performance. We offer a wide range of products that fulfil customers' requirements with regard to quality, functionality and compliance. Our wide range of colourants is suitable for a variety of industries, including automotive, agriculture, building & construction, electrical & electronics, packaging, and textiles & fibres, as well as newly emerging markets.

We strive to be the partner of choice for our customers in these key industries. Customers involved in the plastics & rubber industry can choose from a comprehensive range of specially designed colourants, including organic and inorganic pigments, mono-pigment concentrates, polymer-soluble dyes, effect pigments and specialities.

Our experts are here to help you to meet your individual colouration needs and to address increasingly stringent regulations.

Special Functionalities for Plastics
Our customers can benefit from the opportunity to enhance the performance of plastics with specific functionalities, adding value to end products. Special effect additives include flame retardants, permanent anti-static agents, metal deactivators, optical brighteners, anti-scratch agents, clarifiers, nucleating agents and rheology modifiers.

BTC Europe offers both the products and the specialized technologies that provide plastics & rubber and their end products with additional functionalities. Our experts will be pleased to give detailed recommendations that help optimize performance and establish synergies with additive and colouration packages.

Sustainability
Performance plastics align with the circular economy
Circular economy is a principle already in practice at BASF. It includes using resources wisely and designing products with the minimum amount of waste and impact on the environment. The goal is to move away from a linear model of "take, make, dispose" toward a regenerative, circular model where resources are reused and recycled and waste is reduced. No one organization can create the circular economy. It requires all of us in the plastic value chain to align. By giving plastics a new life, you and BASF can create unique opportunities that enable a circular future.
Did you know?
Our product ecovio® is a high-quality and versatile bioplastic from BASF. The primary advantages: It is certified compostable and partly bio-based.
Your BTC Europe Experts
Contact Center
Servies Offerings
BASF designfabrik® - Personal Advice from Experts
The design- & material expertise of our designfabrik® is one of our Creation Center competencies. In workshops for brainstorming and material consulting the designfabrik® team, but also engineers and developers, support customers into the early stage of product development - for better and faster innovation. Customers also have access to trend reports, material presentations and design events.

Our designfabrik® offers support in every phase of the design process:
Inspiration in material and processing innovations
Initial advice on the choice of a suitable material for design-oriented projects
Advice on the choice of processing methods
Advice on the right component design for the material
Haptic enhancement by the choice between various surface qualities
Optical finishing
The designers and engineers support industrial designers and manufacturers of sophisticated products on all technical aspects of configuring the product and mold to suit the material used. In addition, our specialists help to realize color ideas in an exact way.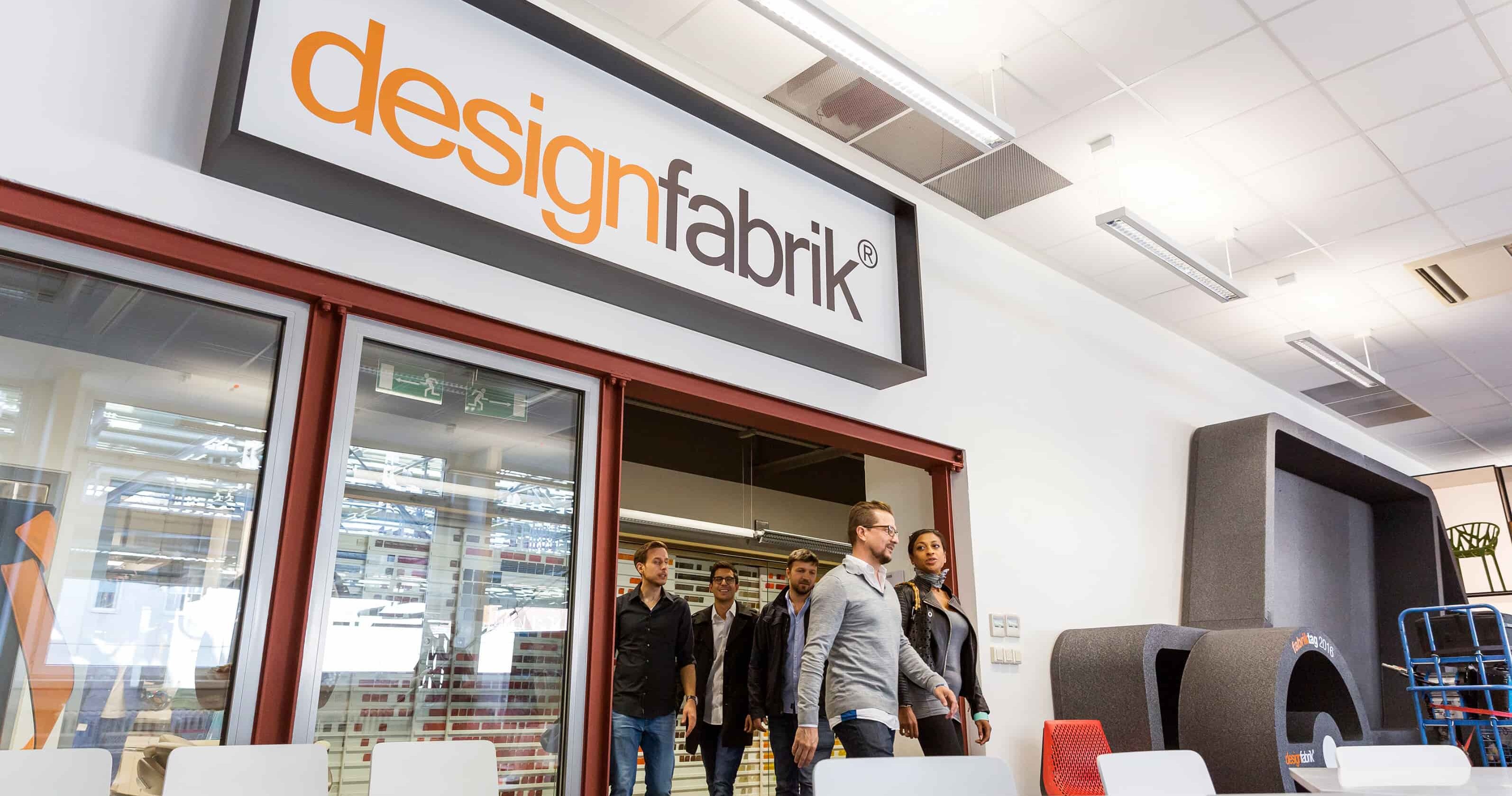 BASF Creation Center

The Creation Centers serve as door opener to the world of BASF's Performance Materials division. In an inspiring atmosphere customers get materials consulting with tangible and digital experience, ideation workshops and advanced development.
The unique set of competencies paired with groundbreaking technology makes the Creation Centers so special in the chemical industry: BASF designers, engineers and simulation experts support customers in the early product development phase, by exchanging at eye level. With newest visualization tools and simulation techniques as well as a globally networked workshop infrastructure, customer focus and expertise are taken to a new level - for better and faster innovations.