Bio-based and certified compostable plastic for coating paper and cardboard
Following some bottlenecks, ecovio® PS 1606 from BASF is once again available in sufficient volumes
Industrially compostable and now also mechanically recyclable using the PTS RH method
The biopolymer ecovio® PS 1606 can replace the conventional, non-compostable coating used in paper and cardboard packaging. Companies that wish to expand their recycling options benefit from this.
A tub of ice cream, a disposable coffee cup or a tray of chips – everyone has held this combination of food and packaging in their hands at some point. But regardless of whether the contents are hot or cold, dry or liquid, firm or greasy: "When it comes to packaging, paper or cardboard on its own is not enough," comments Klaus Braun, Business Manager at BTC Europe. "You need a certain degree of impermeability.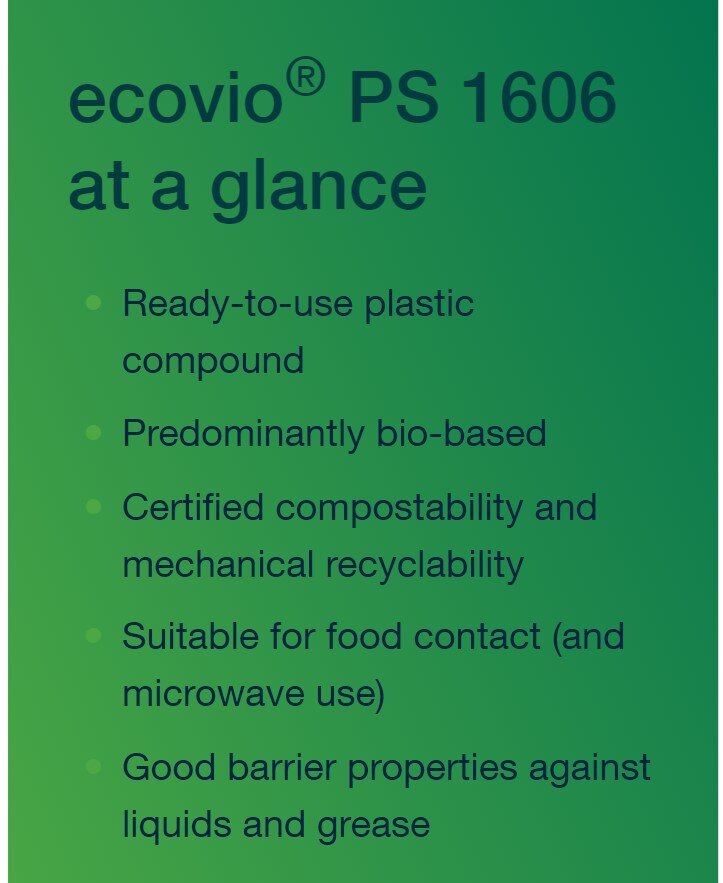 On a purely technical level, their properties would not satisfy the customers. That's why an additional coating is required." After all, it is this coating that makes the paper or cardboard packaging resistant to liquids and grease, thereby protecting the food. It also makes the consumption of food and drinks more enjoyable for the customer, as they can keep their hands clean.
The benefits of ecovio® PS 1606
Such coatings usually consist of polyethylene (PE) and PE products decompose slowly. As a result, more and more companies in the industry are looking for alternatives. ecovio® PS 1606, which is produced by BASF and marketed by BTC Europe, can be a solution here. The mainly bio-based polymer is made up of the certified compostable BASF plastic ecoflex® and polylactic acid (PLA) derived from renewable raw materials based on sugar.
Among other applications, the high-quality bioplastic is perfectly suited for coatings on paper and cardboard. Like LDPE (low-density polyethylene), which is often used in the food and packaging industries, ecovio® PS 1606 is heat- and cold-resistant, acts as an effective barrier against water and grease and has good sealing properties.
Recycling of food waste – together with the packaging
Thanks to this innovation, hot, cold or fried food is securely enclosed. Instead of incineration, there is now a second option for disposal next to mechanical recycling: the packaging coated with ecovio® PS 1606 can be composted industrially along with the food leftovers adhering to it. As such, the food waste and the packaging can be used to create valuable compost. More separated organic waste for compost production is also a valuable contribution to a circular economy. The acceptance in the local bio-waste bin depends on local legislation.
The material is compostable thanks to the special chemical structure of the polymer: given the right temperature, moisture and oxygen supply, micro-organisms and their enzymes can break it down in just under six weeks. "When leftover food and its packaging are collected together, they produce high-quality compost that can replace part of the demand for fertilisers," explains Leonhard Eichner from Business Development Biopolymers at BASF.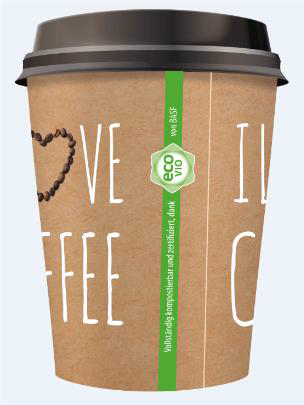 ecovio® PS 1606 once again available in sufficient volumes
Following temporary supply bottlenecks, ecovio® PS 1606 is again available in sufficient quantities. "Therefore, we can offer our customers a good range of materials at the right time," says Eichner. "This allows them to serve their fast-growing markets."
Our BTC Europe experts will be happy to advise you.
Biopolymer now also tested and certified as mechanically recyclable by PTS
Good to know: There are different rules governing which forms of packaging can be recycled how in the various European countries. In Germany, for instance, paper and cardboard containing more than 5% of other materials cannot be thrown in the paper recycling bin. Therefore, paper or cardboard with ecovio® PS 1606 is classified as light packaging – just like PE – and must be disposed of in the yellow container or bag for recyclable packaging material. Such composite materials can be separated in sorting plants and fed to the appropriate recycling process.
"ecovio® PS 1606 has a high share of renewable components – currently 74% – and is certified as being industrially compostable," sums up Eichner. "The fibers have recently been also certified as being mechanically recyclable." The German research institute PTS, which is acknowledged throughout Europe, issued the certificate documenting the mechanical recyclability of ecovio® PS 1606 on paper and cardboard used in trays and coffee cups in February 2021.
This makes the biopolymer a valuable addition to the end-of-life options for paper cups, as it enables industrial composting and mechanical recycling as more resource-efficient alternatives to incineration.
Sharpen your sustainability profile: boosting company images
This allows companies to better achieve their recycling targets. Accordingly, they can help to preserve resources and prevent waste.
The ice cream tub, lid and paper seal of the Swiss ice cream maker Cuckoo Ice Cream consist of cardboard that is coated on the inside with ecovio® PS 1606 – and as a result, the company has won prizes for the environmentally friendly packaging as well as its ice cream.
"Cuckoo Ice Cream is leading the way. We see the value of the gold medals in packaging we have won (European Cardboard Excellence Award and Worldstar Global Packaging Award) as a motivation to always do more than what currently seems possible."
Stephan Bolliger, found of Cuckoo Ice Cream in Switzerland