GLYSANTIN® provides year-round protection for engines – against frost, overheating and corrosion
Modern engines with complex cooling circuits place ever greater demands on coolants.
Combating the waste of resources: 1-litre bottle made from recycled material
Customers are increasingly focussing on sustainability and preventing waste. However, aftermarket products often generate plenty of packaging waste, for example from coolant bottles. Packaging made from recycled materials represent a resource-friendly alternative, such as the new 1-litre bottles filled with GLYSANTIN® premium coolant.
The long-established GLYSANTIN® brand recently celebrated its 90th birthday, and its formulation and performance are more topical than ever: BTC now offers the 1-litre bottle of the premium coolant from BASF in eco-friendly packaging. The packaging is made almost entirely from plastic (post-consumer recycled materials: PCR) which was previously used to produce yoghurt or cream pots, for example. State-of-the-art recycling methods ensure that the packaging quality meets the high quality demands. BASF is therefore contributing to the sustainability aspects that are becoming ever more important to customers.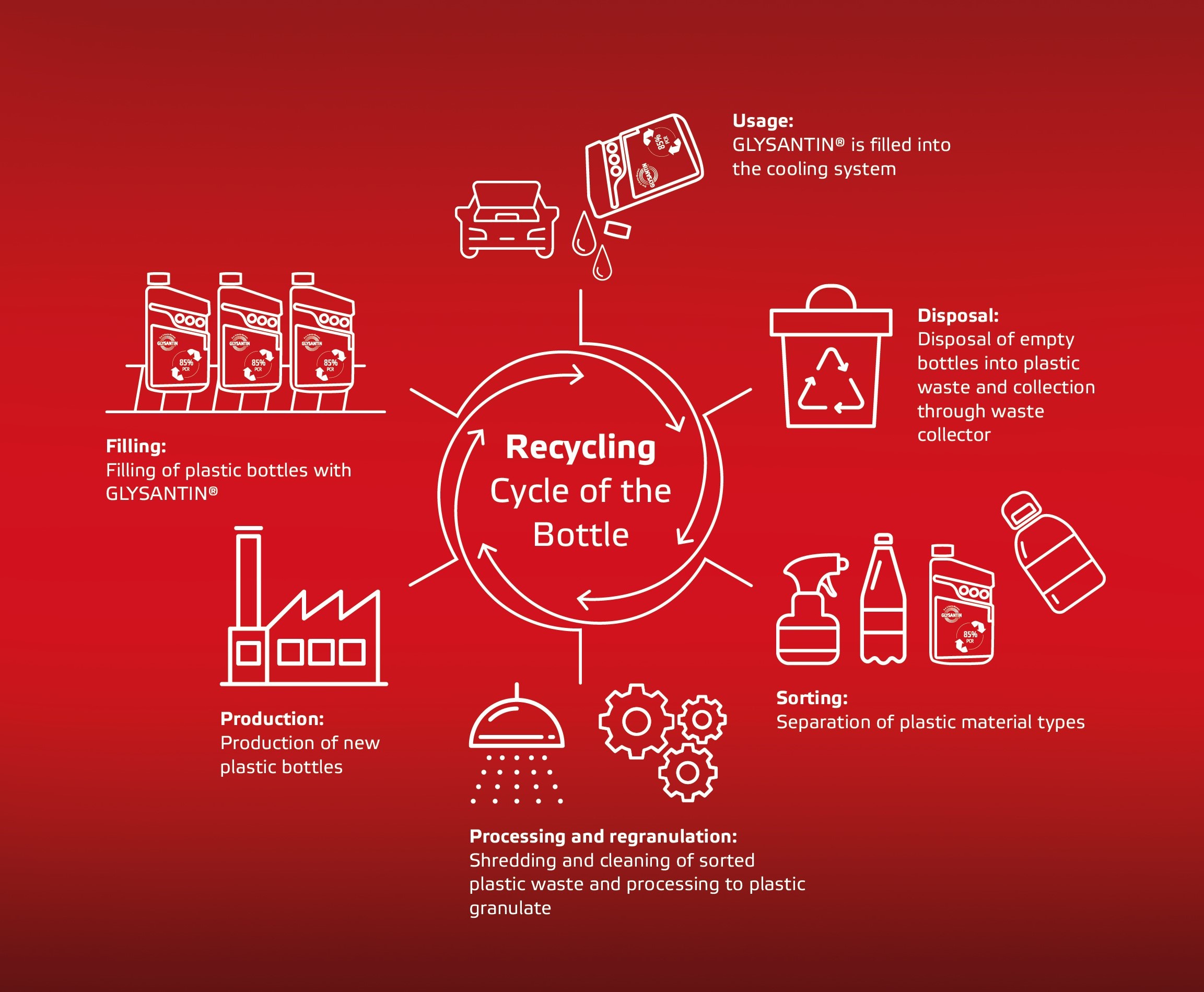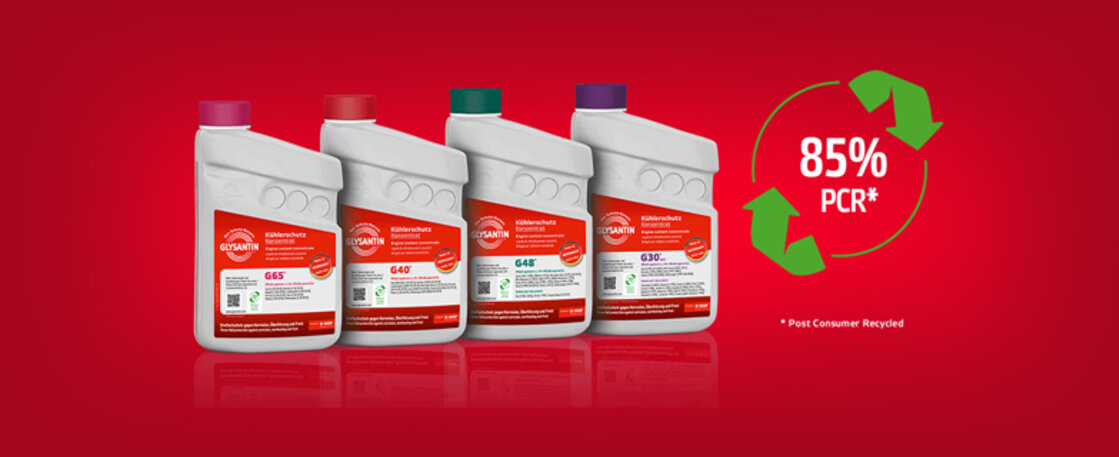 GLYSANTIN® provides year-round protection
However, it is the contents that count. GLYSANTIN® is a premium coolant that provides year-round protection for engines. It is primarily used in the automotive sector, with other applications including heavy-load vehicles (such as trains, tractors or ships) and wind power.
The coolant is available in two variants:
As a concentrate: must be mixed with a specified amount of water (generally 1:1)
As a ready-mix: ready to use, can be filled directly into the vehicle's cooling system
"The trend is moving towards the ready-mix," says Stefan Herrmann, Account Manager for the DACH Automotive & Industrial Fluid Solutions segment at BTC. "It saves time and is easier to use." The benefits for vehicle workshops, but also for vehicle owners:
As not all water types are suitable: Eliminates the need to check the hardness of the water
Possible contaminants in the water do not contaminate the coolant
A suitable, clean container is not required for mixing
Mistakes during mixing are impossible
How does GLYSANTIN® work?
The cooling system works as follows: The coolant mixture transports a portion of the heat energy generated in the engine to the radiator where it is then released into the atmosphere.
There are several GLYSANTIN® technologies with approvals from a wide range of automotive manufacturers (commonly used products include G30®, G40® or G48®, while G64® and G65® are new additions to the product range). These different technologies are important and necessary in providing cooling systems with optimum protection, as cooling systems consist of different materials.
GLYSANTIN® protects the various metals, seals and plastics used in the engine from corrosion (rust), cavitation (pitting) and deposits. During the winter months, the premium coolant works as an antifreeze by lowering the water's freezing point. In the summer, it protects the system against overheating by raising the water's boiling point. These properties are important, particularly as extreme weather conditions are becoming ever more common, with freezing cold winters and very hot summers.
Before a new GLYSANTIN® formulation is approved, the products are subjected to extensive testing, a process which can take up to five years. If the formulation is modified, the testing procedure starts again from the start.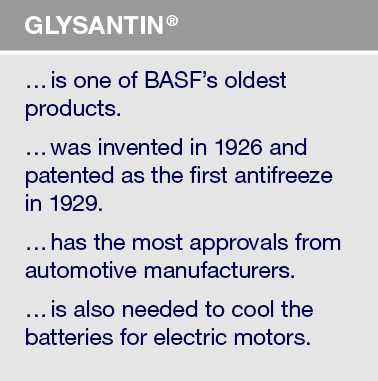 The right engine coolant protection – a possible warranty issue
GLYSANTIN® has been approved by most vehicle manufacturers. "This is also relevant because using the incorrect coolant may void the manufacturer's warranty," states Manuel Gerth, Business Manager in the Fuel & Lubricant Solutions segment at BTC. Officially approved engine coolants can be replaced during the warranty period, without impacting the guarantee.
In light of this, it is particularly beneficial for workshops that a GLYSANTIN® product is generally approved by numerous manufacturers. "This is especially important for independent workshops which service vehicles from different manufacturers," emphasises Stefan Herrmann, Account Manager for the DACH Automotive & Industrial Fluid Solutions segment at BTC.
However, car owners who drop off their vehicles at the workshop are generally not concerned with such details. The customers rely on their vehicles being checked thoroughly, on engine oil and other fluids being topped off, and on everything working and running smoothly. This is when workshop operators and their expertise are called upon.
Engine coolant for mobility of the future
When manufacturing the concentrates, various technologies are deployed, with many of them being constantly developed further in collaboration with the automotive industry. The term "downsizing", for example, describes the reduction in cylinder size and displacement in modern engines with the aim of complying with future CO2 specifications: "The goal is to improve the efficiency and eco-friendliness of engines while offering the same or greater performance," Gerth explains. "The systems offer greater performance which results in increased pressures and temperatures in the engine system." The corresponding increase in heat produced by these systems therefore places greater demands on the coolant used in today's engines with their complex cooling circuits.
"The topic of downsizing will continue to gain importance," agrees Herrmann. Equally important is the topic of alternative drive models, such as those for electromobility, which require particularly comprehensive coolant protection. For example, a Tesla Model S requires about 24 litres of GLYSANTIN® G48® Ready Mix to cool its batteries – approximately three times more coolant than in a conventional combustion engine. "We receive a considerable number of queries from the alternative drives sector," Herrmann emphasises. "An entirely new business field in the future technologies is being established, even for workshops."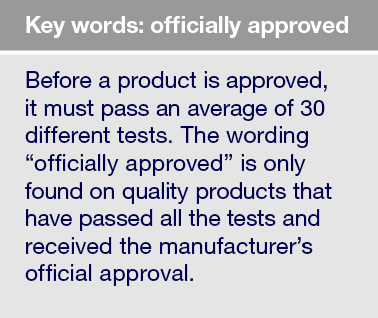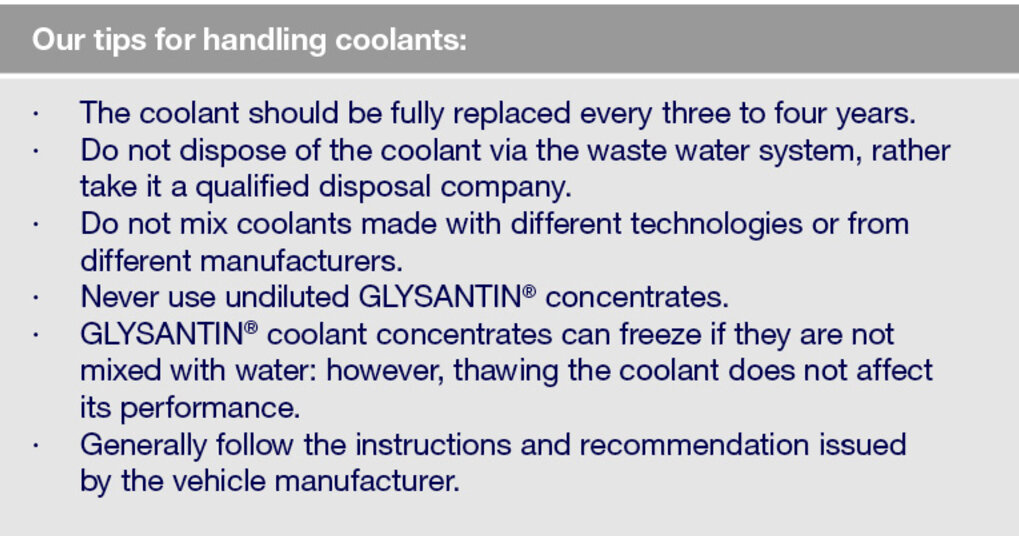 Our Expert
Stefan Herrmann has been an Account Manager DACH Automotive & Industrial Fluid Solutions at BTC Europe since 2018. He is responsible for the sales and marketing of BASF GLYSANTIN® as well as base oils and additives for the lubricants industry. "I have been working in sales with a great passion for 30 years," Herrmann acknowledges. He displays this same passion when riding his Vespa scooter during the summer months – preferably through the gentle hills in Tuscany. Of course, the Vespa's engine is also cooled with GLYSANTIN® from BASF.