BTC Eurrope has expanded its portfolio to include a stabilised protease: Lavergy® Pro 114 LS from BASF.
In combination with the proven Sokalan® HP 20 polymer, the enzyme technology increases cleaning performance at low temperatures.
Easy integration into existing detergent formulations.
Saving resources is quite the trend – even when doing the laundry. As a result, detergent manufacturers are faced with the challenge of offering products that enable optimum cleaning results at lower temperatures.
Consumers are increasingly choosing detergents that allow them to achieve a high washing performance even at low temperatures. After all, reducing the washing temperature from 40 °C to 20 °C can result in energy savings of up to 50 percent (Source: Lav temperatur/koldvask vaskemiddel, 2006). BTC Europe now has a new and innovative solution in its portfolio which can even be integrated into existing detergent formulations: Lavergy® Pro 114 LS, a new product in BASF's Protease portfolio. When combined with the Sokalan® HP20 polymer – which is proven in detergent manufacturing – the new product significantly increases cleaning performance at low temperatures. "The combination of both worlds – enzymes and chemistry – provides the decisive factor for optimum washing results at low energy consumption," says Sabine Both, Senior Technical Manager at BTC Europe.
Combination of enzymes and chemistry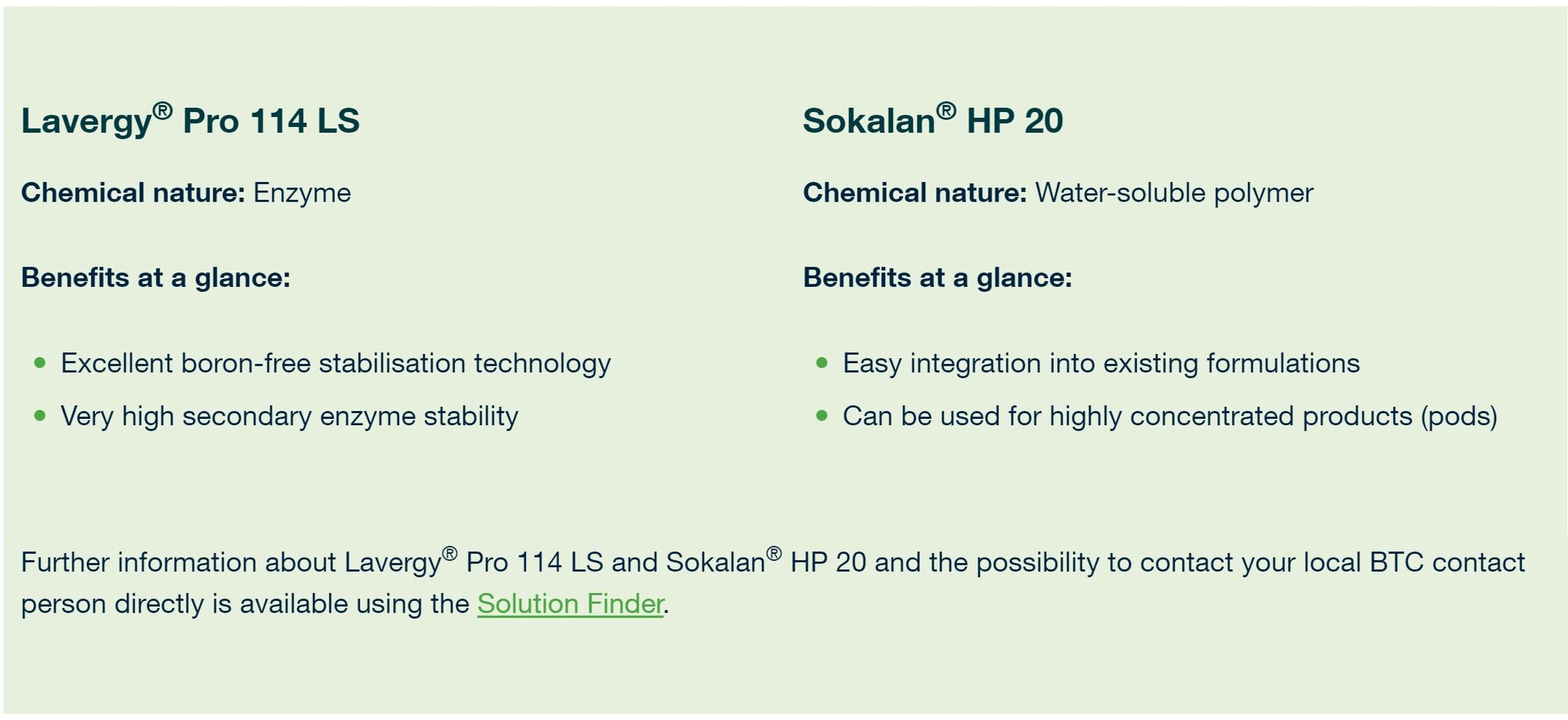 Lavergy® Pro 114 LS and Sokalan® HP 20 are high-performance components for liquid detergents from BASF. Every product has its role in removing various types of stains, as proven by tests conducted on 50 different types of stains – from grass to red wine. "All of them need different ingredients in order to achieve the best solution for the overall appearance," Both explains. "The key is that here at BTC, we can benefit from the broad product portfolio from BASF and are the only supplier that delivers this synergistic solution. This allows our customers to improve their product performance from a single source."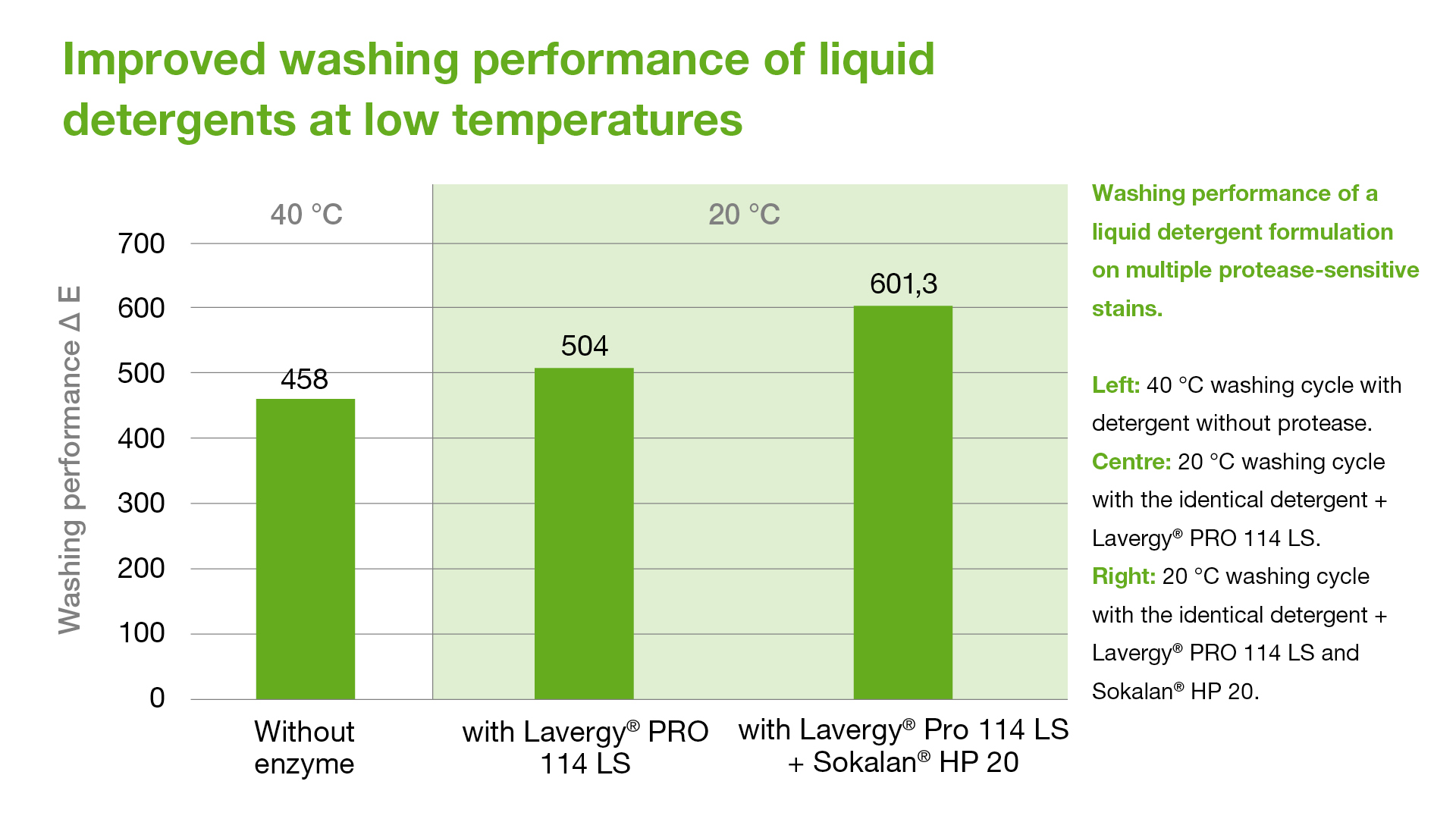 Stabiliser as key to enzyme technology
Enzymes are key components in current washing and cleaning product formulations. They can be used to easily remove stains caused by egg, blood and milk for example. A tremendous benefit of Lavergy® Pro 114 LS is its good stability and very high secondary enzyme stability – without the use of boron derivatives and other preservatives. "The manufacturers can rely on the washing performance being retained for a longer period of time and on that their customers receive the performance that you sold them," states Both.
Sustainable solution
Lavergy® Pro 114 LS and Sokalan® HP 20 also satisfy ecolabel criteria, such as those required for the EU Ecolabel. The highly concentrated products can be used sparingly and they demonstrate their cleaning power even at low temperatures. This is good for the environment and the consumer's wallets.
Our tip: Put our products to the test
Lavergy® Pro 114 LS and Sokalan® HP 20 can be added to an existing formulation without any changes to the production process.
Just give it a try: If you are not satisfied with the performance of your current detergent formulation, simply add 1% Sokalan HP 20 and 0.5% Lavergy 114 LS to your current system (standard dose 75 ml) and note the enormous performance increase, even at low washing temperatures!
Are you unsure of a suitable formulation? Contact us. The contact data of your local BTC Europe contact is available in the Solution Finder.
Our Expert
Dr Sabine Both has been working for BTC Europe since 2011. After gaining her doctorate in chemistry, she has been active in developing cleaning agents. She knows exactly which purposes a particular product can fulfil based on its ingredients. "I was involved in the development of some of the cleaning component formulations in the BTC Europe range," she says. As Senior Technical Expert, Both currently oversees the Home Care and Industrial Solutions divisions. According to Both, the biggest difference between the two areas is that "private customers generally appreciate being regularly presented with a new or improved product. In industry, the motto is usually: If it isn't broken, don't fix it," she says. However, there is one thing that often changes, especially with regard to cleaning products – environmental protection requirements. "If we are able to offer a solution thanks to a certain chemical composition, that's always a great success," says Both.